Debio's labels for eating establishments
If you prepare and serve food for others, and wish to market your organic and sustainable food, you can make it visible using Debio's organic labels or Ø label.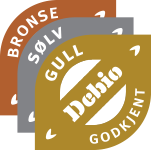 Debio's labels for eating establishments
Debio's organic labels can be used to profile the proportion of organic/Debio-approved products at eating establishments and in the retail food sector and the green Ø label can be used to make individual products and dishes visible.
To be able to use Debio's organic labels, an enterprise must be able to document the fulfilment of the following minimum requirements for one of three levels:
Bronze label: A minimum of 15% of the food served is organic
Silver label: A minimum of 50 % of the food served is organic
Gold label: A minimum of 90 % of the food served is organic
Debio's private regulations for the use of Debio's labels apply to the use of Debio's labels at eating establishments. These regulations cover label use when serving organic and Debio- approved food and drink in communal establishments. Communal establishments refer to restaurants, cafés, canteens, catering enterprises, fast-food establishments, institutional kitchens, hotel kitchens, etc.
Such regulations are in addition to any other statutory provisions applicable to the enterprise. There are three main categories for control and approval in connection with label use, distributed according to the type of enterprise:
sole enterprises (independent enterprises such as cafés, restaurants, kindergartens, etc.)
enterprises with a common control system (enterprises with one main entity/control entity and sub-entities at different locations, such as hotel chains, municipal enterprises and other enterprises with a joint administration: these types of enterprises can have a joint association with Debio)
Events (agreement-based use of the Ø label/sustainable label/organic labels)
Do you have any questions or require advice?
Please leave your telephone number and email address and we will contact you.